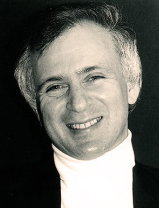 A scholarship student of Frances Mann and Mieczyslaw Munz at the Juilliard School, Jeffrey Marcus received a Bachelor of Science degree in Piano. He went on to obtain his Master of Music degree as a student of Martin Canin at the State University of New York at Stony Brook where he was a teaching assistant.
Mr. Marcus has toured extensively: in Reykjavik, Iceland; Oxford and London, England; Poznan and Warsaw, Poland; Munich and Hamburg, Germany. He was the pianist for the North American Premiere of Kristoff Penderecki's "Strofe" and for the first complete performance of Chopin's Songs with the American mezzo soprano Elizabeth Patches at Alice Tully Hall, Lincoln Center. His performances have aired all over the world: on WQXR and WNYC in New York; BBC, England; Sueddeutscher Rundfunk, Norddeutscher Rundfunk and Hessischer Rundfunk in Germany. His solo recital debut at Merkin Hall in New York took place in October, 1985 under the auspices of the Oberon Foundation and was received with high critical praise.
Jeffrey Marcus has collaborated with many internationally celebrated artists including the American Cellist Rebecca Rust, First Solo Bassoonist of the Munich Philharmonic Friedrich Edelmann, Chilean Mezzo Soprano Victoria Vergara, Icelandic Soprano Gudrun Tomasdottir and the German Cellist Tilmann Wick.
For many years, Mr. Marcus has maintained a private teaching practice on Long Island's North Shore. He numbers among his many successful students the professional musicians Noby Ishida, Derek Wieland, Rob Burger and Carey Brown. A past member of the New York State Council of the Arts Decentralization Committee, Mr. Marcus has served on the faculty and as a member of the Board of Directors of the State University of New York at Stony Brook Pre-College Music Program
A recent solo performance, sponsored by the Kulturverein of Wachenheim in the Rheinland Pfalz region of Germany, marked the thirty fifth anniversary of Jeffrey Marcus' first appearances in Germany. The special affinity between German audiences in the Pfalz and Jeffrey Marcus have their origins through the auspices of the Fitz-Ritter Wine-Estate of Bad Duerkheim (http://www.fitz-ritter.de/en/) through their musical patronage Mr. Marcus has repeatedly returned to the Palatinate as a revered soloist and chamber musician.