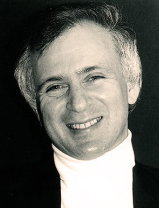 "What caught the ear – above and beyond Mr. Marcus' technical self possession – was the excellent grasp of how music moves from one point in time to the next… an exceptionally sound musician and worthy of our notice."
--Bernard Holland, New York Times
A scholarship student of Frances Mann and Mieczyslaw Munz at the Juilliard School, Jeffrey Marcus received a Bachelor of Science degree in Piano. He went on to obtain his Master of Music degree as a student of Martin Canin at the State University of New York at Stony Brook where he was a teaching assistant.
Appearing as a soloist and chamber player, Jeffrey Marcus' career in Europe has spanned over forty years and he has toured extensively including Reykjavik, Iceland; Oxford and London, England; Poznan and Warsaw, Poland; Geneva, Switzerland and over twenty tours of Germany.
The Kulturverein of Wachenheim in Germany's Palatinate has included Mr. Marcus' solo recitals as part of their subscription series over the course of five separate seasons. Since 1975 he has made numerous appearances at the renown Fitz-Ritter German Wine Estate concert series in Bad Dürkheim, Germany. The Fitz-Ritter "konzertsaal", that dates to 1785, has served as the venue for the recording of two CD's of Jeffrey Marcus' solo performances.
Mr. Marcus was the pianist for the North American Premiere of Kristoff Penderecki's "Strofe" and partnered the American mezzo soprano Elizabeth Patches for the first complete performance of Chopin's Songs at Alice Tully Hall, Lincoln Center. In 2013 Mr. Marcus performed the American and European premiers of the eminent American composer Peter Winkler's Seven Bagatelles for Piano.
Jeffrey Marcus' made his New York solo recital debut at Merkin Hall in October 1985. This program, sponsored by the Oberon Foundation, was received with high critical praise. His performances have aired all over the world including WQXR and WNYC in New York; BBC, England; Sueddeutscher, Norddeutscher and Hessischer Rundfunk in Germany.
In collaboration with many internationally celebrated artists Jeffrey Marcus has performed with the American Cellist Rebecca Rust, First Solo Bassoonist of the Munich Philharmonic Friedrich Edelmann, Chilean Mezzo Soprano Victoria Vergara, Icelandic Soprano Gudrun Tomasdottir and the German Cellist Tilmann Wick.
For many years, Mr. Marcus has maintained a private teaching practice on Long Island's North Shore. He numbers among his many successful students the professional musicians Noby Ishida, Derek Wieland, Rob Burger and Carey Brown. A past member of the New York State Council of the Arts Decentralization Committee, Mr. Marcus has served on the faculty and as a member of the Board of Directors of the State University of New York at Stony Brook Pre-College Music Program. He currently serves as a member of the Board of Directors of the "Songe dété en Musique" summer music festival that takes place annually in Quebec, Canada.
Since 2014 Jeffrey Marcus has been a guest performing artist at the "Songe dété en Musique" in Quebec, Canada. During this festival, along with his annual solo performances Mr. Marcus has collaborated with the American Tenor Matthew Goodheart, Canadian Soprano Valerie Belanger, American Soprano Emily Klonowski, American Flutist Samantha Clarke, American Percussionist Frank Cassara and the American Cellist Maureen Hynes.